My mind is plagued but then again it almost always is...right now im rather depressive...the headaches aren't helping...im so tired... I don care for life anymore.there isn't a reason to...but I keep on cuz I must...my superhuman powers have left me n a shell of a person with so many weaknesses...im not strong, unless I have to b... And its mostly cuz im so tired... So tired of being the one everyone looks for in Answers, to b the adult...ive been taking care of ppl more than 70% of my existence... It gets tiring...
The only thing that I am learning is that I can't let ppl near me...its better to keep an emotional detachment... I don't have a reason to go against that thought... In the end, im lonely..need to face the facts on this.. I been lonely for a longtime... And I create this because I am chicken shit and can't stand up... I say things an am not listened to..or its taken wrong...
All I do is make ppl unhappy... I keep being pushed into corners... Like last night, he brought flowers, my favorites... As a friend there isn't a reason to do that.. And since it was a class night I was tight for time, but managed to get yelled at for not saying thank you... friendly saying that id have to acknowledge that they are for me and theoretically violates the friend line... I am trying to talk more and explain things better, but when I do, the closeness factor becomes smaller beyond friend lines... I keep being left uncomfortable but if I say anything then its gah...
I'm depressed and tired, and since I like that, it is starting with the kitchen and I not being happy again... And then about how things are due to my indecisiveness..and it's like no...its not..
And now im hearing about how I've been ignoring mom for two wks and talking to everyone else but her..and I don't like her..and I want her dead and out of my life.. And I mention the fact that for the last tweeks she's been talking about leaving and moving..and then she tries to throw it on me that its cuz I don't make her feel wanted, needed or lived... Wtf..
I'm so tired of being boxed in.. And yet im a glutton for punishment cuz I don't change it.. Cuz im scared.. Cuz I feel like im abandoning everything..that im letting everyone down..
There isn't a reason for me to invade and destroy another's life.. I'm not worth it... I've destroyed enough with my existence..
Mianhae to all those I have and continue to hurt on the rollercoaster that is my life..
I'm tired of hearing that im not saying what I want.. I am..jus no one listening to me...

Posted via m.livejournal.com.
Annyeonghaseyeo...


today has been relatively okay busy but okay...

i have been rather mentally fusterated and basically pent up with my own disastrous thoughts...your confused, its okay...basically what i am trying to say, is...i have been so busy that i have not been able to relieve any 'dark feelings' (anger, etc) in my normal routine...which is art (drawing, painting, crocheting etc)...

well busyness is not the only reason...also, anytime i start something, i kindof throw myself into it...which then becomes problematic for my husband and mother and thus they get upset with me...its rather aggravating to know that i could be less of a rollercoaster mentally if i was able to do my outlet....

it doesnt help right now that i am mentally going thru alot of things...like i am kindof glad that i lost my insurance and go see my regular doctor for womens health, becuase i have been rather 'nervous' about talking to him about getting a hysterectomy...i think it may be due to my thoughts of them 'judging me'...i know its silly and just ridiculous, but its...whats been in my head...whereas going to the HD, they dont know me, i never deal with them, and its like a complete stranger and thus...i dont give a fly what they care...im also concerned about how to pay for it, if the insurance decides that it is not benifical, and yet, it would be...

i just...want to feel better, to stop having all the pain...to not have to worry about destroying peoples lives again...an that is basically what i have done most of my life...or at least been massivley told

i have destroyed my fathers world due to my being born and destroying all his dreams

i have destroyed my mothers life due to dealing with my father all these years, preventing her from the happiness she craves, and spending so much of her life on me, (which is rather wasteful)

i have destroyed my husbands life, by basically being present..by exposing him to the hazards of my world and family

i feel most days like shit, because of all of the above, and how i am not a great mother to my daughter, or wife to my husband, or even daughter to my mother...i want to be this person, i wake up every morning striving mentally to be thus...i crave it in my blood...however...this is not my role...and tho this is much disagreed upon in my house...it is not my role...i am my mothers daughter...i am my daughters sister...and most days i feel like the daughter to my husband who in many respects is like my father..and that is just due to the roaming environment that is created in my home....when i try to be the person i want to be, i am knocked down and degraded or condemned...

and yet i am the only one who supposingly believes this...

i go now...my hands stumble a little more each time i type and thus tiredness is kicking in
SO, i have decided to start writing here again...why?...a place to vent and think mostly..
Current Mood:

depressed


if i would have tried the makeup on you first...you would have been excited an liked the way it looks...but because i tried it on me first...i always seem to be scary looking or have done something wrong...

todays: twas the scary version, and how i am scaring ariella, tho that is not a reason as to why she is crying...

you are a bitch today...you made marian cry because of your sick twisted amusement which is never really funny...but only to you...sometimes i think you like to bring people that kind of painful misery...

an now i have to try and lift my spirits and lick my wounds, otherwise you will recognize the hurt and then other shit will occur...

some days you make me sick and wish i was far away...
you make people feel like shit...especially today...
When you occasionally have a really bad day, and you just need to take it out on someone, don't take it out on someone you know, take it out on someone you don't know. I was sitting at my desk when I remembered a phone call I'd forgotten to make. I found the number and dialed it.

A man answered, saying "Hello." I politely said, "This is Chris. Could I please speak with Robyn Carter?" Suddenly a manic voice yelled out in my ear "Get the right f***ing number!" and the phone was slammed down on me. I couldn't believe that anyone could be so rude!

When I tracked down Robyn's correct number to call her, I found that I had accidentally transposed the last two digits. After hanging up with her, I decided to call the 'wrong' number again.When the same guy answered the phone, I yelled "You're an asshole!" and hung up.

I wrote his number down with the word 'asshole' next to it, and put it in my desk drawer. Every couple of weeks, when I was paying bills or had a really bad day, I'd call him up and yell, "You're an asshole!" It always cheered me up.

When Caller ID was introduced, I thought my therapeutic 'asshole' calling would have to stop. So, I called his number and said, "Hi, this is John Smith from the telephone company. I'm calling to see if you're familiar with our Caller ID Program?" He yelled "NO!" and slammed down the phone. I quickly called him back and said, "That's because you're an asshole!" and hung up.

One day I was at the store, getting ready to pull into a parking spot. Some guy in a black BMW cut me off and pulled into the spot I had patiently waited for. I hit the horn and yelled that I'd been waiting for that spot, but the idiot ignored me. I noticed a "For Sale" sign in his back window, so I wrote down his number. A couple of days later, right after calling the first asshole (I had his number on speed dial,) I thought that I should call the BMW asshole, too.

I said, "Is this the man with the black BMW for sale?" He said, "Yes, it is." I asked, "Can you tell me where I can see it?" He said, "Yes, I live at 34 Oaktree Blvd, in Fairfax. It's a yellow ranch, and the car's parked right out in front."

I asked, "What's your name?" He said, "My name is Don Hansen," I asked, "When's a good time to catch you, Don?" He said, "I'm home every evening after five."

I said, "Listen, Don, can I tell you something?"

He said, "Yes?"

I said, "Don, you're an asshole!"

Then I hung up, and added his number to my speed dial, too.

Now, when I had a problem, I had two assholes to call.

Then I came up with an idea. I called asshole #1. He said, "Hello." I said, "You're an asshole!" (But I didn't hang up.) He asked, "Are you still there?" I said, "Yeah," He screamed, "Stop calling me!!!" I said, "Make me!!!" He asked, "Who are you?" I said, "My name is Don Hansen." He said, "Yeah? Where do you live?" I said, "Asshole, I live at 34 Oaktree Blvd, in Fairfax, a yellow ranch, I have a black Beamer parked in front." He said, "I'm coming over right now, Don, and you had better start saying your prayers." I said, "Yeah, like I'm really scared, asshole," and hung up.

Then I called Asshole #2. He said, "Hello?" I said, "Hello, asshole," He yelled, "If I ever find out who you are..." I said, "You'll what?" He exclaimed, "I'll kick your ass!!!" I answered, "Well, asshole, here's your chance. I'm coming over right now."

Then I hung up and immediately called the police, saying that I lived at 34 Oaktree Blvd, in Fairfax, and that I was on my way over there to kill my gay lover.

Then I called Channel 9 News about the gang war going down on Oaktree Blvd. in Fairfax.

I quickly got into my car and headed over to Fairfax. I got there just in time to watch two assholes beating the crap out of each other in front of six cop cars, an overhead news helicopter and surrounded by a news crew.

NOW I feel much better. Anger management really does work!




work is good...different...i feel sometimes as tho an outcast tho i am not surprised for i am the only white girl all the rest are foreign kids...so ya...but there are several that are married and with kids so that is comforting to those aspects...

anyways i shall let you be now...for people are wanting this computer..bies
i have really nothing of major importance to speak about so here is just a ramble of the events in the world...
HOTT...
TIS 2 ASIANS DANCING TOGETHER AND DOING NAUGTY TEASING THINGS...
I watch this and think of katie and Polar Bear (aka. Brian)...lol...tis said...
GO WATCH:
http://youtube.com/watch?v=8fF_d-Cn-d4&m
ode=related&search=
it has
Aya matsuura  &  Miki fujimoto
I HAVE NO IDEA WHAT THEY ARE SAYING....BUT THEY ARE

bones creaking with each vitale movement
groans emiting from chapped lips
screams rampaging from the walls of life

I am
unheard by others
ignored by my captor
no traces found dangling on a breath

I am
what can be found everywhere
i do not discriminate
exceptions are not granted

I am
what haunts the dreams
the reason why sleep is lost
unforgiving to all who know me

I hold you captive
Lead you astray to confusion
Life is unbalanced due to me
I am


how cool is that

so the details...

was in the classroom building about to take the elevator up to 4th floor to use the curteousy fon...

got on with this other girl, she had blond hair fairly long in a ponytail...and was wearing a soft green coat....kina soft butchy looking...pretty tho...

her: i love your bag, its so cool with the pentagram...where did you get it
me: oh, i found it at Big lots a long time ago, got it for fairly cheap like 3$ i think...
her: cool, cool...is your coat one of those big heavy duty work coats
me: ya, i stole it from my father ...i absolutely love this coat, its warm
her: i stole things from my dad too, but usually a flannel or something
me: ah, ya, i also stole a huge pair of overall things...i live in those every year...
her: aw, a womens way to my heart...u can steal mine any time...

lol....i thought it was cool...perked me up some...

however it is my fault, for im lazy and dont try, and am always just wearing jeans with a t-shirt and my hair pulled back...

tis crazyness...i look like such the dyke daily...gwahr
So...yesterday...i got HIT ON by a LESB in the ELEVATOR...


so was walking and lookin at bob as he spoke...about wrong things...

bob: "another thing thats wrong is pre-marital holding of hands"

he said that while looking at tim and i...

my response that i told him : "um, were married..."

ha ha...it was funny, he got tight lipped, and went on about other pre-marital things...

IN YOUR FACE PREACHER BOB!!!
so, was walking with tim (holding hands) across campus to the parking lot to leave...preacher bob was out and talking...first was about girls and their boobs hanging out of their shirts and how things are wrong, but not taken care of or spoken about...
got to spend some small time with tony...got to meet his friend, which made me feel rather special...for reasons unknown to all...also tony, how old is said friend, they look rather young...no offense...
got to be spending lots of time (well by my book and his lack thereof)...with the darwin...got to go out browsing for clothes...made of happy wootness
took ari to an indian pow wow today, for the hell of it, plus wanted her to see part of her other culture...since shes 1.16th cherokee on my side...
um, not much else really going on...
found out tonight that i now have to find more childcare watchings for the ari, cuz mom wont recover from surgery as quick as she expected...which by the way is on tues the 17th, and for those that dont know...its a hystorectomy and complete ovarian removal due to her cervic cancer...so ya..not sure how gonna do that...gonna b missin nuff class over the next couple of days, neways...
so, ya...lots to do and no time...
neways bies...give a holla if ya want...dont blame ya for not
plus i subscribe to this really cool forum on makeup, and this was the coolest and had to share...
one girls take on anime eyes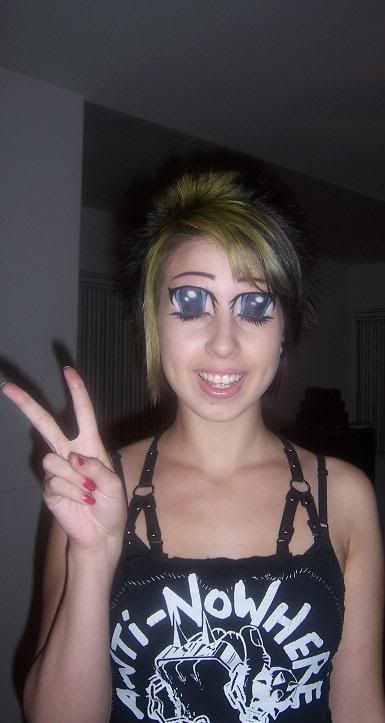 so...the unky patwix has been caught seen here in town...yays...the ari got to play with his hair and glasses...massive cutels...